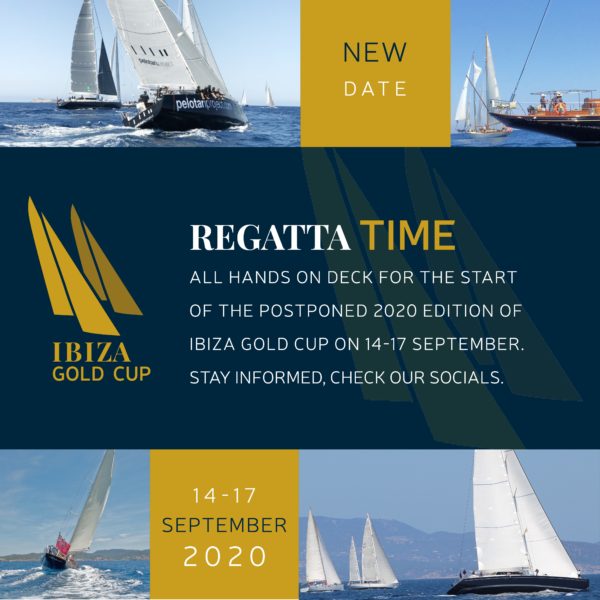 September 14-17, 2020
The Ibiza Gold Cup 2020 is not canceled,
but postponed to September 14th to 17th
With our boutique nature & limited entries
we want to re-create joyful memories again.
...turquoise waters
Moor at a different hidden spot every day,
forming the most surprising regatta conditions
of the Mediterranean.

Authentic Ibiza
Enjoy unforgettable (beach) locations
with our own limited sailors group
accompanied with a highly engaging and
above all surprising social program
in world's most vibrant location: IBIZA !
Countdown to the
Ibiza Gold Cup 2020
of postponed edition in
September 14th to 17th 2020
with our timekeeper
TNG Swiss Watches
An epic experience with the most idyllic &
relaxed regatta conditions of the MED.
Participation is limited !
Join the 'belated' opening of the Med Regatta season due to COVID19 from September 14th to 17th. During this 6th edition, prestigious yachts will race bay to bay and sail the waters of magical Ibiza and Formentera. Every day another surprising hidden venue.
Sports and teamwork combined with the most idyllic regatta conditions of the Mediterranean. Breathtaking beaches and bays, unforgettable places and hidden spots, best of food & beverages and great spirit!
The Ibiza Gold Cup is exclusively for around 15 Performance cruisers, Cruisers & Classics yachts above 60ft. Daily we sail competatively in different areas towards the next venue, we moor at astonishing locations and enjoy a highly engaging and above all surprising social program. The ideal start of the Mediterranean regatta calendar and to enjoy the vibrant atmosphere of Ibiza during the opening season.